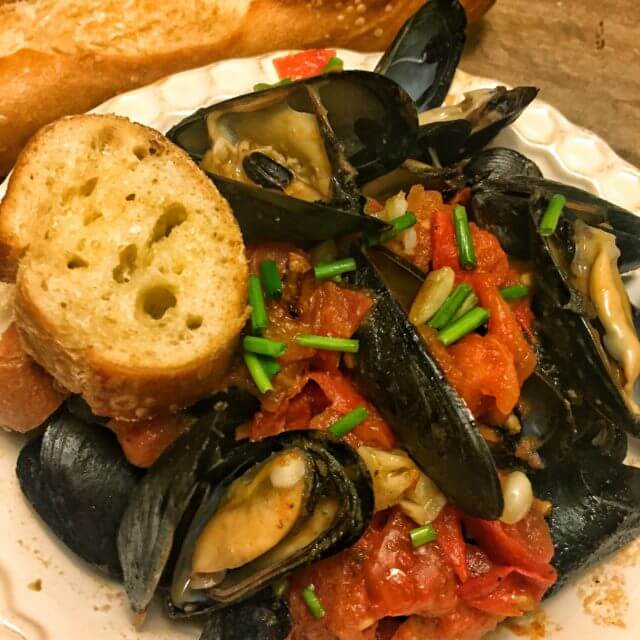 Spicy Tomato Mussels
2017-12-19 06:23:53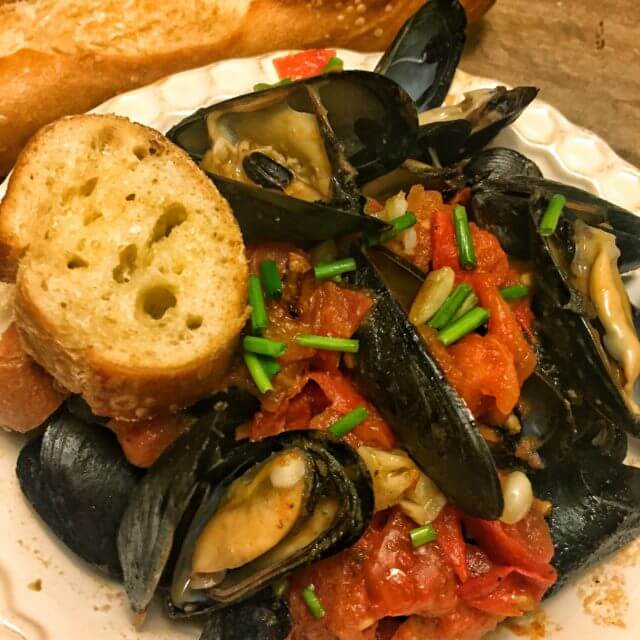 Serves 4
Ingredients
1/4 cup olive oil
3 garlic cloves, minced
1 fennel bulb, thinly sliced
1 pound tomatoes, cut into 1/2 inch dice
1 tablespoon red chili flakes
3 pounds mussels (washed and debearded)
2 tablespoons butter
3 tablespoons fresh chives, chopped
1 loaf french bread
1 tablespoon olive oil
Instructions
In a large pot, heat the oil over medium-high heat. Add fennel and cook until slightly browned, 8 minutes. Add garlic and cook, 3 minutes. Add tomatoes and cook until soft, pressing to break down, 10 minutes. Add in red pepper flakes and season with salt. Add mussels, cover and cook, until mussels open, 5-10 minutes.
Meanwhile while mussels are cooking, slide the french bread into 1/2 inch thick slices. Brush each with olive oil and season with salt and pepper. Broil on high until browned, 5 minutes.
Get rid of any mussels that don't open.
Using a slotted spoon, transfer mussels equally among 4 large bowls.
Add butter to tomato mixture and stir until melted. Spoon over mussels and top with chives.
Serve with crusty bread for dipping.
Adapted from Bon Appetit
SALT & PREPPY https://www.saltandpreppy.com/