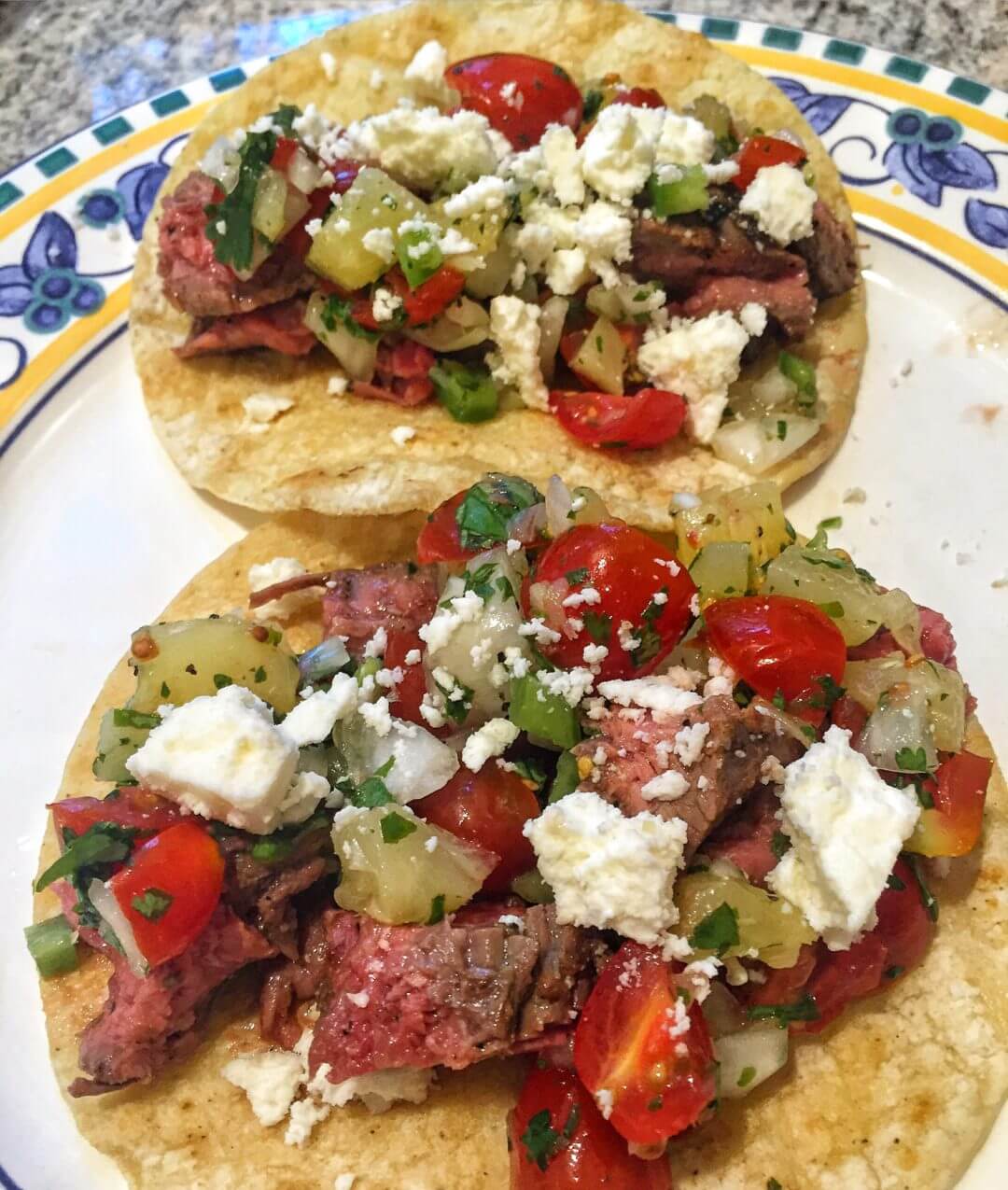 Ginger Steak Tacos w. Pineapple Pico
2016-07-27 17:24:59
Serves 4
Tacos
2 pound flank steak
1/4 cup extra virgin olive oil
1 1/2 tablespoons brown sugar
1 tablespoon soy sauce
2 teaspoons worcestershire sauce
4 garlic cloves, minced
1 1/2 tablespoons fresh ginger, grated
10 soft tortillas, corn or flour
6 oz. queso fresco cheese
Pineapple Pico
1 cup fresh pineapple cubes, diced
1 pint cherry tomatoes, quartered
1 jalapeño pepper, diced (seeds removed)
1/2 sweet onion, diced
3 tablespoons fresh cilantro, chopped
1 lime, juice
Instructions
Season the steak with 1/2 teaspoon salt and 1/2 teaspoon pepper. In a small bowl, combine the olive oil, brown sugar, soy sauce, worcestershire sauce, garlic and ginger. Place the steak in a ziplock bag with the marinate. Transfer to the fridge for 2-4 hours.
Grill the steak per high heat for 5 minutes a side. Let sit for15 minutes before slicing, making sure to cut against the grain.
To make the Pineapple pico, combine all ingredients together in a medium bowl.
Heat the tortillas in a large pan greased with pam over medium-high heat until lightly browned.
Assemble the tortillas with the steak, pineapple pico and queso fresco, sprinkling more cheese and cilantro on top if you wish.
Adapted from How Sweet Eats
SALT & PREPPY https://www.saltandpreppy.com/