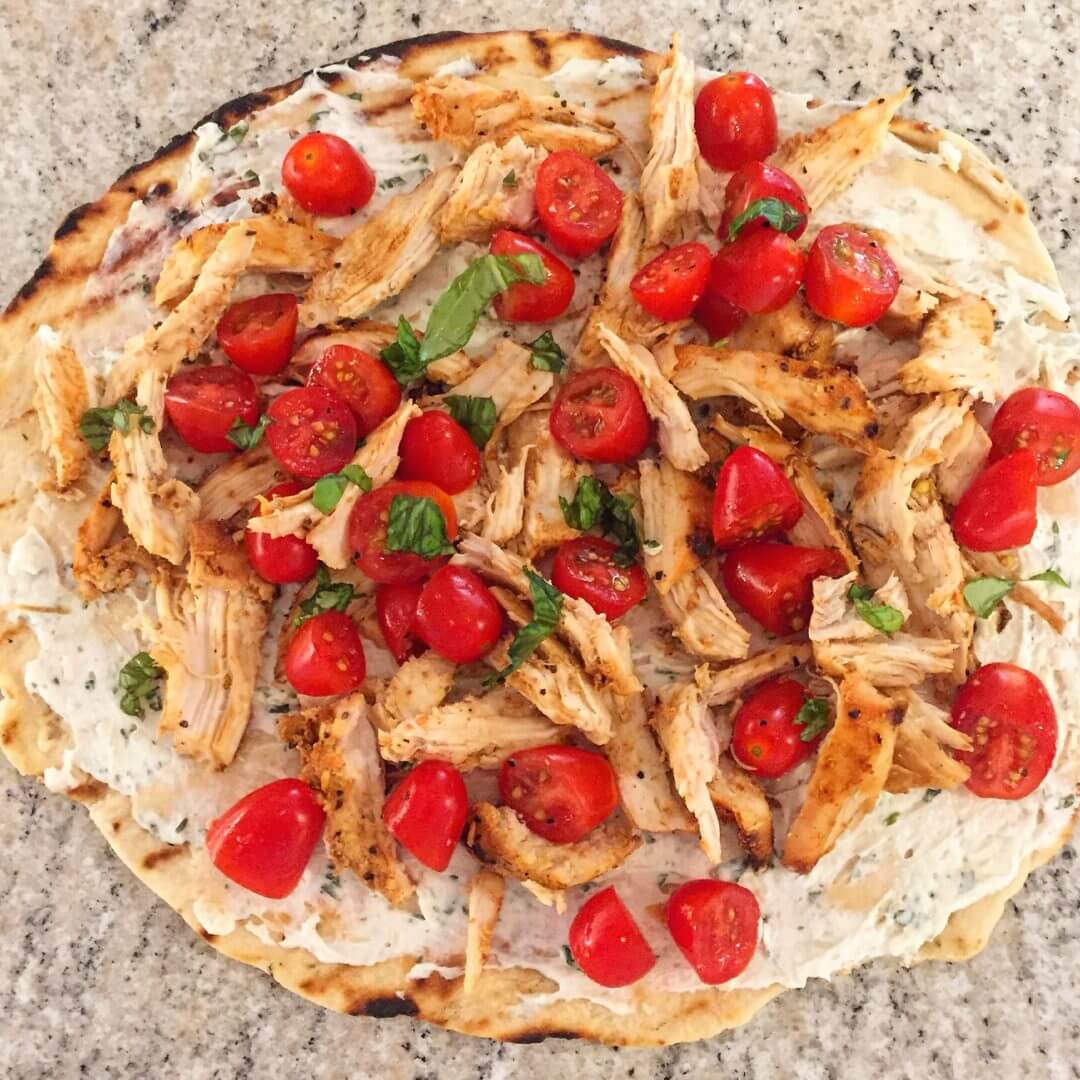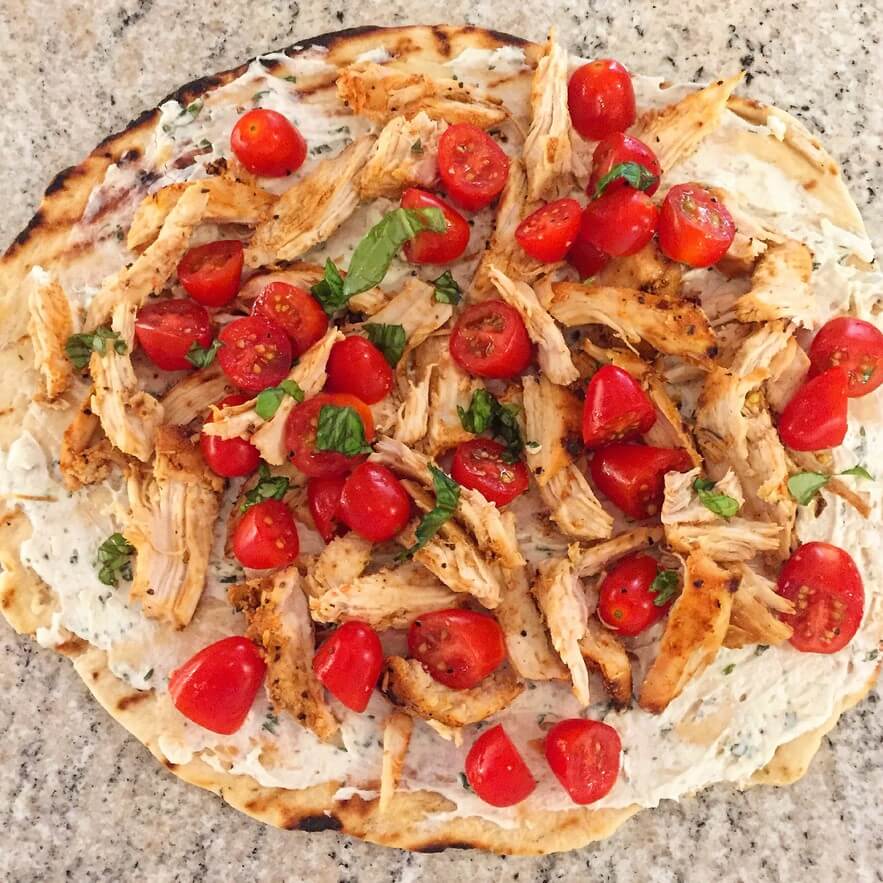 Grilled Chicken Flatbreads w. Cherry Tomatoes & Creamy Feta
2016-07-27 17:58:54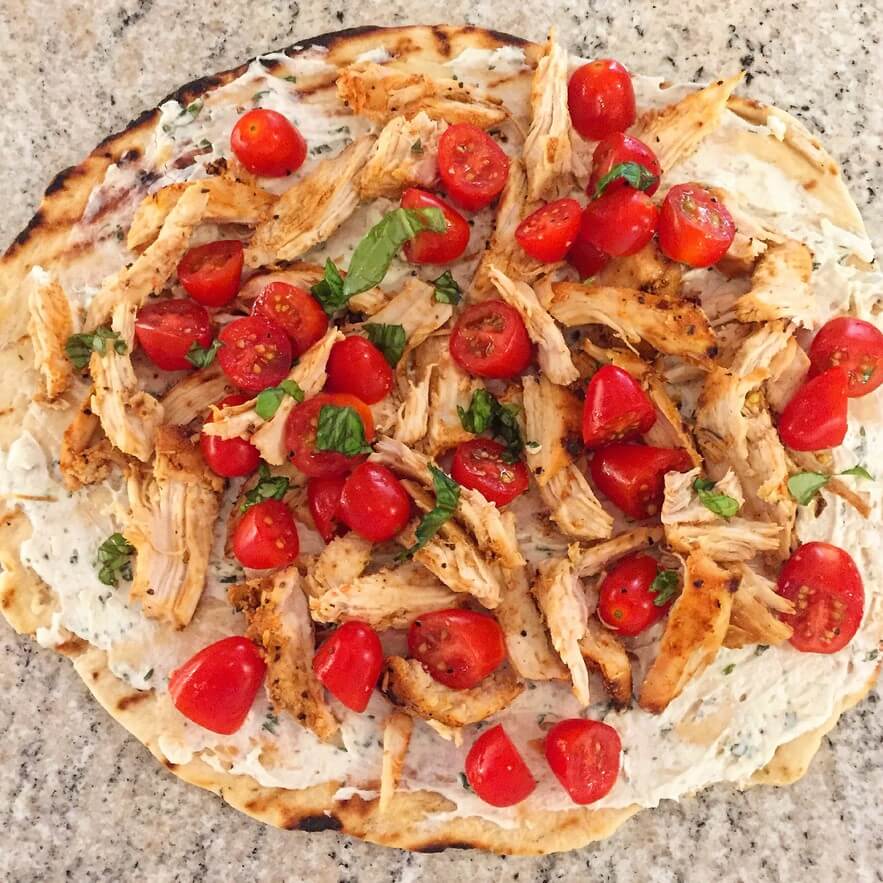 Serves 6
Chicken
1 1/2 pounds boneless, skinless chicken thighs
4 tablespoons olive oil
2 lemons, zest and juice
4 garlic cloves, minced
1 teaspoon salt
1 teaspoon pepper
1 tablespoon red wine vinegar
1 tablespoon honey
1 teaspoon smoked paprika
1/2 teaspoon cumin
1 pint cherry tomatoes, quartered
1/2 cup fresh basil, julienned
1 tablespoon fresh oregano, chopped
Feta Spread
1/2 cup plain Greek yogurt
8 ounces feta, crumbled
4 garlic cloves, roasted
1 1/2 tablespoons olive oil
1 1/2 tablespoons fresh basil, chopped
1 1/2 tablespoons fresh oregano, chopped
1/4 teaspoon salt
1/4 teaspoon pepper
Pita
1 cup warm water
1 package active dry yeast
1 tablespoon honey
1 1/2 cups whole wheat flour
1 cup flour
1/2 teaspoon salt
Instructions
In medium bowl, whisk together the olive oil, lemon zest and juice, garlic, vinegar, salt, pepper, paprika and cumin. Transfer to a plastic bag with the chicken and refrigerate, minimum 2 hours and up to overnight.
Preheat the over to 375 degrees. Cut the top off a bulb of garlic, drizzle with a tablespoon of olive and sprinkle with salt and pepper. Roast for 45 minutes or until soft.
While roasted, begin making the pita. In a large bowl, combine the water, yeast and honey and let sit until foamy, 10 minutes. Stir in the flour and salt. Transfer to a flour surface and knead until a ball forms 5 minutes. Add more flour if the dough it too sticky. Spray the inside of a bowl with pam and place dough inside. Cover and set in a warm place so the dough can rise, 1 hour.
Heat the grill to medium-high heat and cook the chicken, 7 minutes a side. Remove and let cool slightly before shredding.
While the chicken is cooking, make the feta spread by combining all ingredients in a small bowl until smooth.
Using a knife, portion 1/2 to 1 cup of dough (depending on how large you want your flatbreads to be) and roll on a floured surface until 1/4 inch thick. Rub the grill with oil and transfer dough to the grill, grilling 3-4 minutes a side or until slightly charred but still chewy.
To assemble the pitas, spread each pita with a generous portion of feta spread and top with cherry tomatoes, chicken, basil and oregano.
Adapted from How Sweet Eats
SALT & PREPPY https://www.saltandpreppy.com/