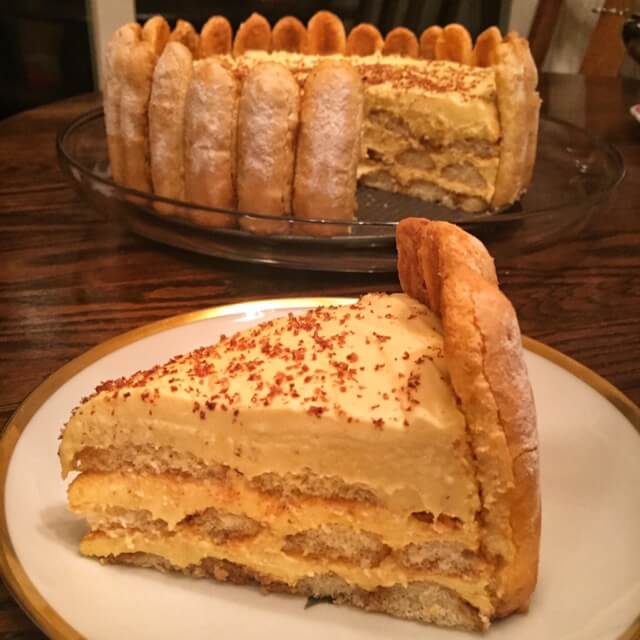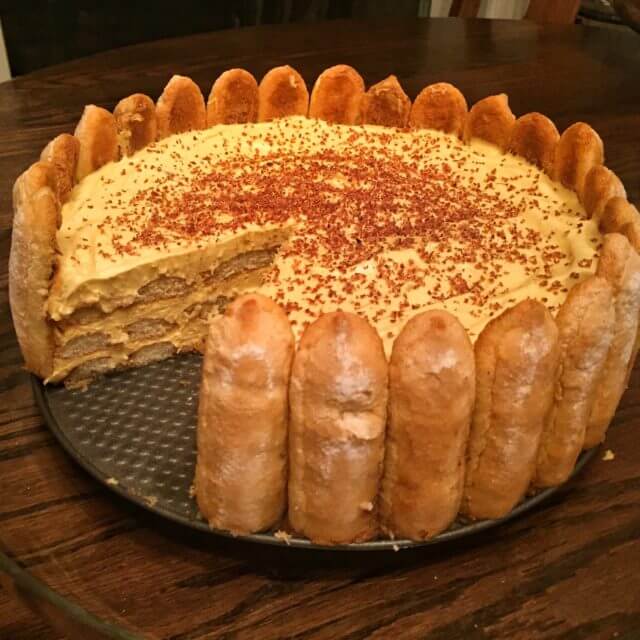 Pumpkin-Espresso Tiramisu Cake
2017-01-07 10:50:43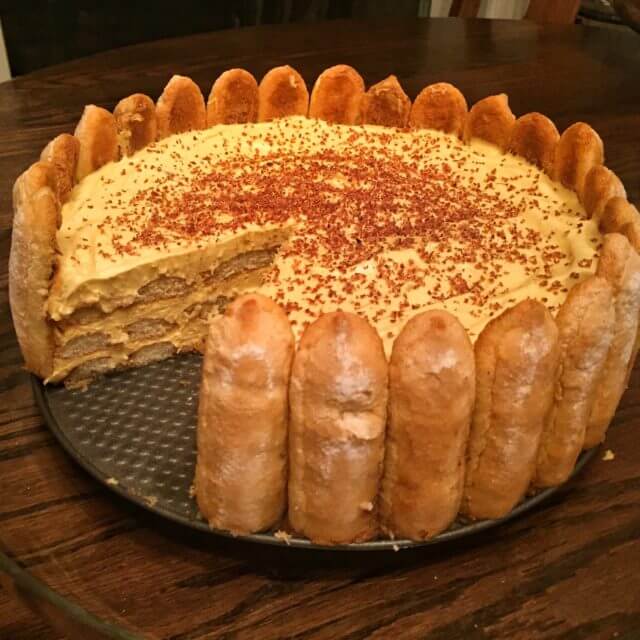 Serves 10
Ingredients
1 cup sugar
1 tablespoon flour
2 eggs + 2 egg yolks
2 cups heavy cream
1 teaspoon vanilla extract
16 oz. cream cheese, softened (2 packages)
1 cup canned pumpkin
1/2 cup brewed espresso or dark roast coffee
3 tablespoons brandy
3 7-oz. packages ladyfingers
3 tablespoons powdered sugar
1 milk chocolate bar *optional
Instructions
In a large pan, whisk together sugar and flour. In a medium bowl, whisk eggs, egg yolks, heavy cream and vanilla extract. Add to pan and cook over medium heat, whisk constantly until thick, 15 minutes.
Remove cream mixture rom heat and transfer to a large bowl. Cover with plastic wrap, pressing directly on mixture to prevent film from forming, and transfer to fridge to cool, 1 1/2 hours.
Once cooled, beat cream cheese into cream mixture until combined. Beat in pumpkin.
In a small bowl, combine the brandy and espresso of coffee. Brush flat sides of about 24 ladyfingers with espresso mixture and stand around the edge of a 10-inch springform pan (rounded sides against pan). Line the bottom of the pan with additional lady fingers (flat side down), cutting if necessary to cover entire bottom of pan. Brush lady fingers on bottom of pan with espresso mixture.
Spread 1/3 of cream cheese mixture over ladyfingers on bottom. Repeat layers twice with remaining ladyfingers, espresso mixture, and cream cheese mixture, ending with cream cheese mixture. Cover with plastic wrap and return to fridge to chill, 4 hours or overnight.
Using a zester, shave milk chocolate over top of cake to garnish (optional).
Cut into slices and serve.
Adapted from Southern Living
SALT & PREPPY https://www.saltandpreppy.com/