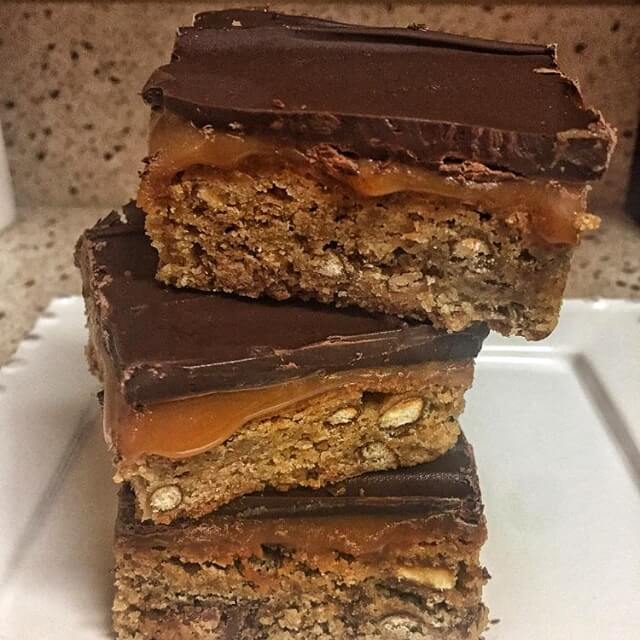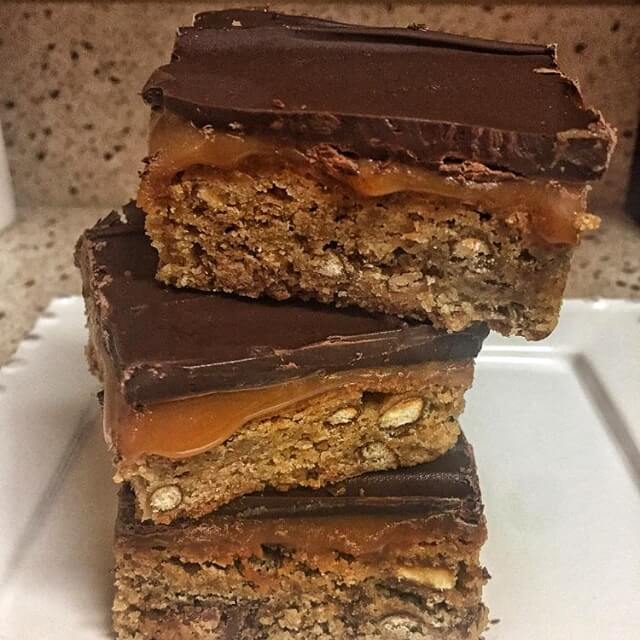 Chubby Hubby Bars
2017-01-07 10:09:30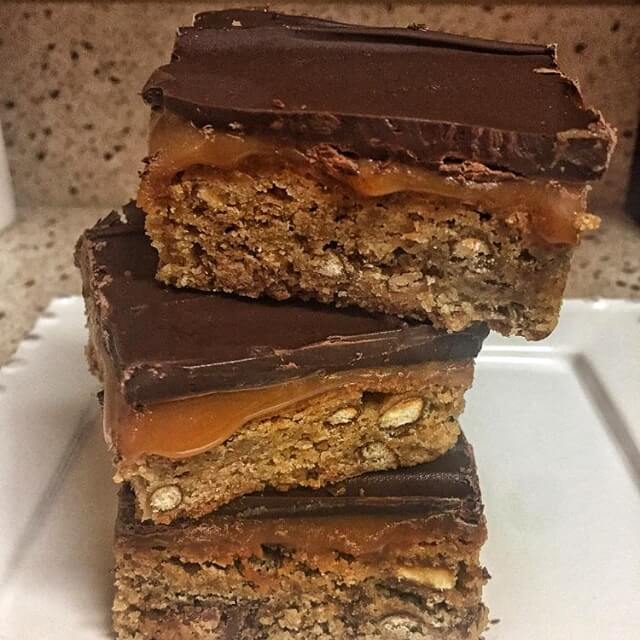 Ingredients
2 sticks butter, room temperature
1 cup light brown sugar
1/2 cup sugar
2 eggs
2 teaspoons vanilla extract
2 1/2 cups flour
1 teaspoon baking soda
1 teaspoon salt
1 1/2 cups crumbled pretzels
1 8oz. bag of mini Reese's cups
1 14 oz. bag of caramels
2 cups semi sweet chocolate chips
Instructions
Preheat oven to 350 degrees and pray a 9X13 pan with pam. In a large bowl, cream together the butter, brown sugar and sugar until light, 3 minutes. Beat in the eggs and vanilla extract.
In a medium bowl, combine the flour, baking soda and salt. Beat into the wet mixture, 1/2 at a time. Fold in the Reese's and pretzel pieces. *I add my pretzels to a ziplock bag and pound with the back of a cup or rolling pin to crumble.
Transfer the batter to the pan, spreading to form an even layer. Bake for 25 minutes.
In a microwave safe bowl, add unwrapped caramels and two tablespoons of water. Microwave in one minute increments, stirring in between until melted and smooth. Immediately pour caramel in even layer over baked bottom layer. Transfer pan to fridge to let cool, 15 minutes.
Meanwhile, use a double broiler (heat-proof bowl placed on top of pot of boiling water) to melt the chocolate chips until smooth. Spread over cooled caramel layer and place back in fridge until chocolate is set, 30 minutes.
Cut into squares and enjoy!
Adapted from Cookies & Cups
SALT & PREPPY https://www.saltandpreppy.com/