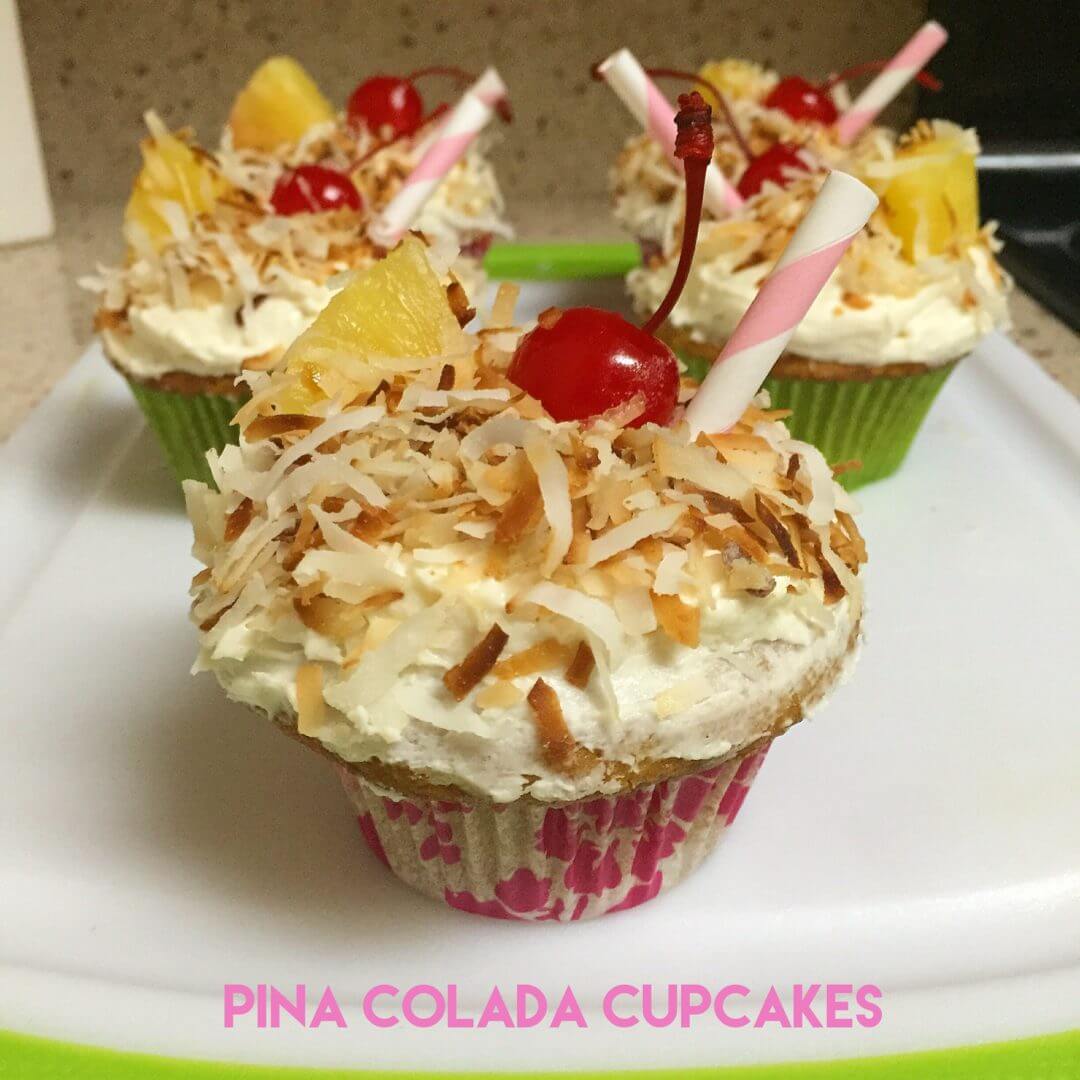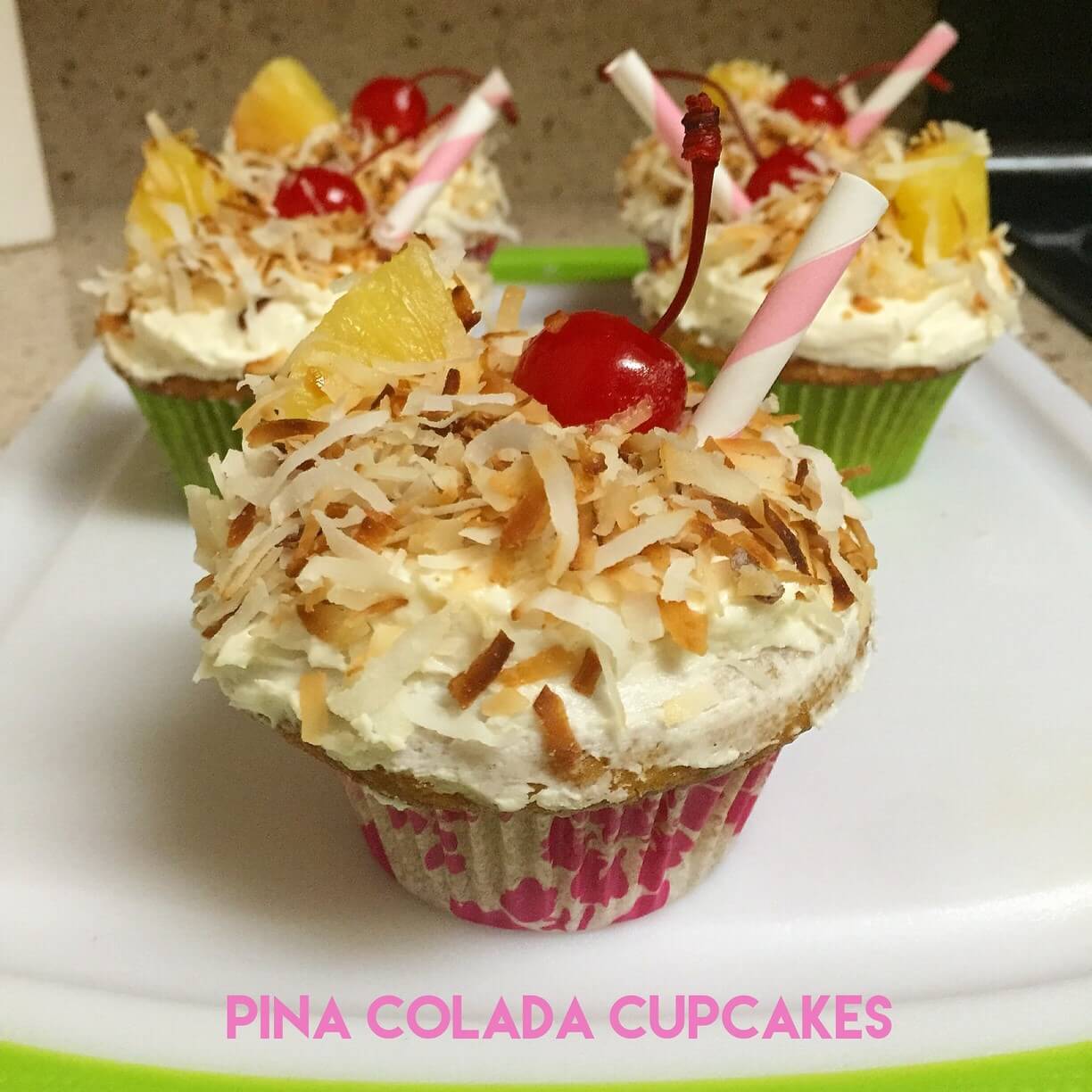 Pina Colada Cupcakes
2016-06-04 14:02:26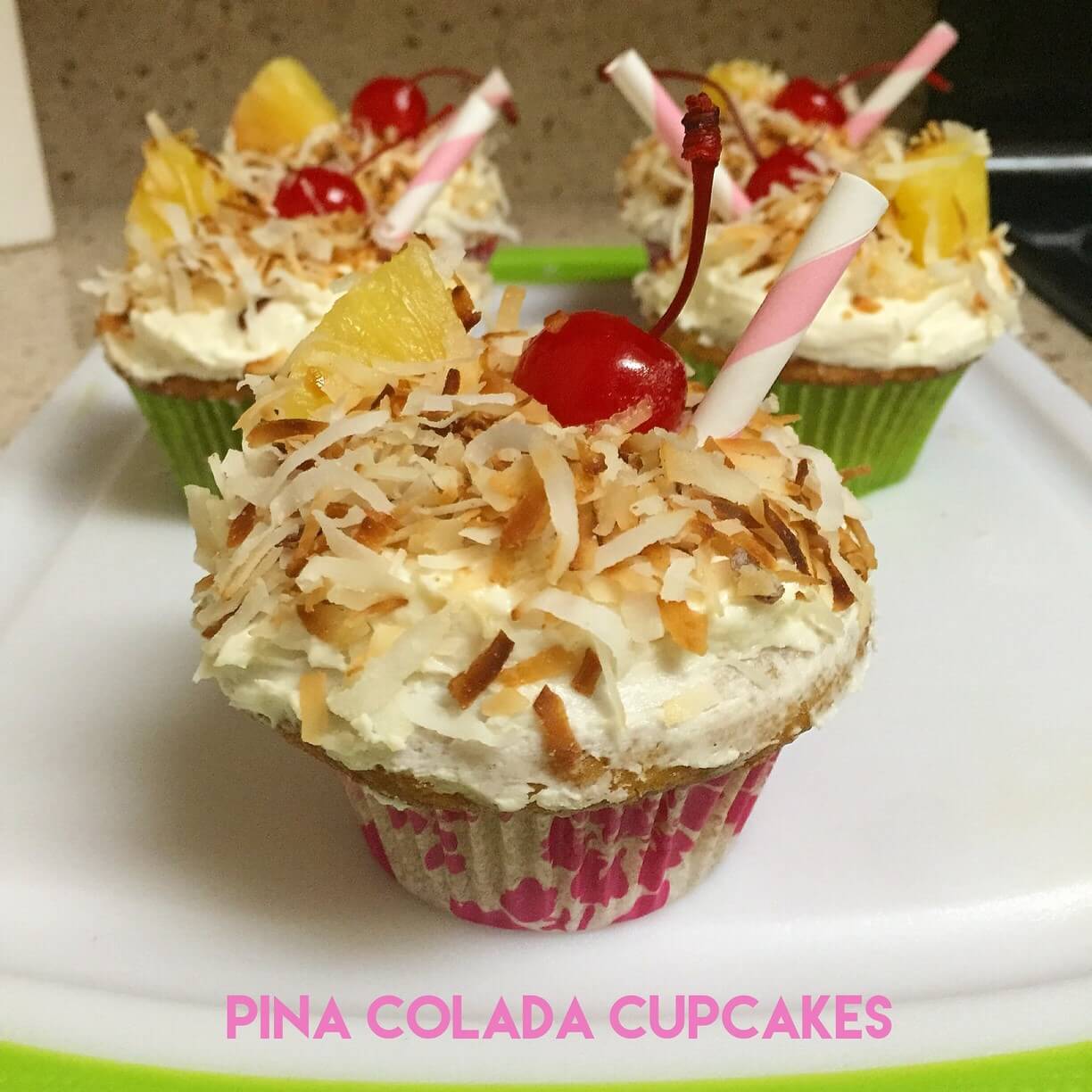 Cupcakes
1 and 2/3 cups flour
1/2 teaspoon baking powder
1/4 teaspoon baking soda
1/2 teaspoon salt
3/4 cup light brown sugar
1/4 cup granulated sugar
1/2 cup butter, melted
1 egg
1/2 cup pineapple juice
1/2 cup full fat coconut milk
2 teaspoons vanilla extract
Frosting
3/4 cup butter, softened
3 cups powdered sugar
1/4 cup heavy cream
2 teaspoons vanilla extract
1/2 teaspoon coconut extract
Toppings
maraschino cherries
pineapple chunks
colored paper straws (cut into 3-4 inch size)
3/4 cup coconut, toasted
Instructions
Preheat the oven to 350 degrees and line a muffin tin with liners- spraying with pam. In a medium bowl, mix the flour, baking powder, baking soda and salt. In a large bowl, melt the butter, Whisk in the brown sugar, sugar, egg, pineapple juice, coconut milk and vanilla extract. Add the dry ingredients to the wet, 1/2 at a time. Fill the liners 2/3 way full with batter and bake for 20 minutes or until a knife inserted into the center comes out clean.
While the cupcakes are baking, make the frosting. In a medium bowl, beat the softened butter until fluffy, 5 minutes. Add in the powdered sugar, heavy cream, vanilla extract and coconut extract and beat, 5 minutes. If frosting is too thin, add more powdered sugar and if too thick, add in more heavy cream. If frosting is too sweet, add pinch of salt.
Make the frosting: In a medium bowl, beat the softened butter on medium speed with an electric or stand mixer fitted with a paddle attachment. Beat for about 3 minutes until smooth and creamy. Turn mixer off and add confectioners' sugar, cream, vanilla, and coconut extracts. Mix on low for 1 minute then increase to high speed and beat for 3-4 full minutes. Add more confectioners' sugar if frosting is too thin or more cream if frosting is too thick. Add salt if frosting is too sweet (1/4 teaspoon). Transfer frosting to a ziplock bag and using scissors snip off a corner. Pipe onto cooled cupcakes. Top each with a maraschino cherry, pineapple chunk, toasted coconut and colored paper straws.
Adapted from Sally's Baking Addiction
SALT & PREPPY https://www.saltandpreppy.com/