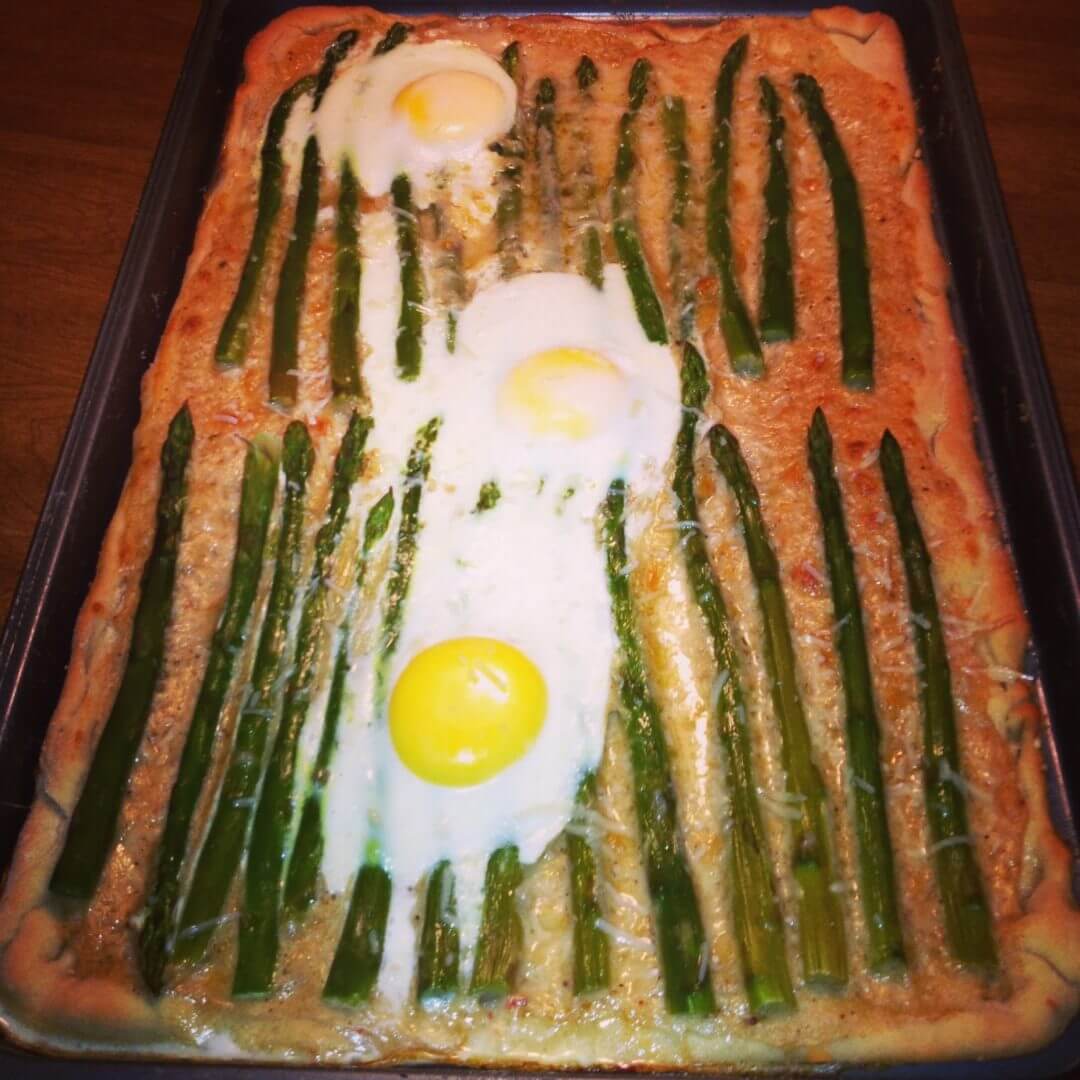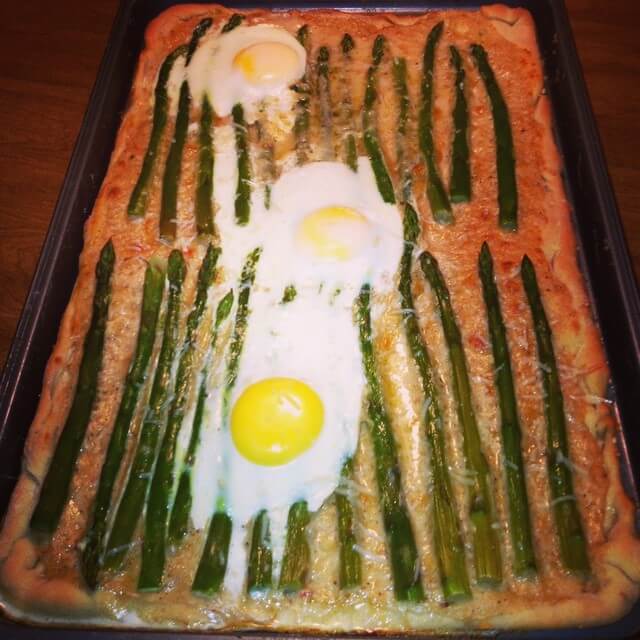 Asparagus, Gouda & Egg Pizza
2016-05-01 17:04:15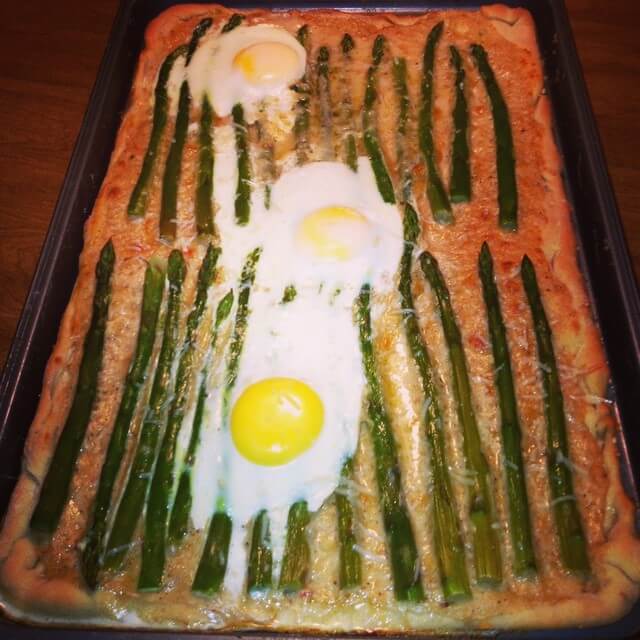 Serves 6
Ingredients
1 ball homemade or store-bought pizza dough, (recipe below)
2 tablespoons butter
2 tablespoons flour
1 cup milk
1 cup gouda cheese, shredded
1/2 teaspoon nutmeg
1 bunch asparagus
3 eggs
1/2 cup parmesan cheese
pinch of red pepper flakes
Pizza Dough
1 packet active dry yeast, 2 1/4 teaspoons
1 1/2 cups warm water
3 1/2 cups flour
2 teaspoons salt
1 tablespoon honey
1 tablespoon olive oil
Homemade Pizza Dough
Begin by making the dough. Make sure to do this at least 2 hours before you plan to make the pizza, as you need to allow enough time for the dough to rise. In a large bowl, combine the yeast and warm water and allow to rest, 5 minutes. Add 2 cups of the flour and using a wooden spoon, stir until combined. Add the salt and honey. Add remaining flour and using your hands, stir to combine. Transfer to a floured work surface and using your hands, knead until dough is desired consistency, 5 minutes. Don't be afraid to add more flour if the dough appears sticky. Place the dough in a large lightly oiled bowl and cover with a damp kitchen towel, allowing to rise for 1 1/2 hours. When ready to make the pizza, divide the dough into two equal portions. Save one portion in a ziplock bag in the fridge (up to a week), or freeze for later use.
Asparagus, Gouda & Egg Pizza
Preheat the oven to 450 degrees and spray a pizza pan or large baking sheet with pam. Fill a large pot with water and boil the asparagus until tender, 5 minutes. Transfer to a bowl with ice water and blanch, in order to keep the green color. On a lightly floured surface, roll out pizza dough and transfer to pan. In a medium skillet, melt the butter over low heat. Add the flour and cook until light brown in color, 3 minutes. Add the milk and nutmeg, stirring constantly until thick, 5 minutes. Take off the heat and add the cheese. Spread the cheese sauce over the dough. Arrange the asparagus on top, (I recommend cutting them into 1 inch pieces as it makes for easier eating). Bake for 15 minutes. Remove from oven and crack three eggs on top of the pizza. Bake for another 5 minutes or until the eggs are set to your liking (more like 3 minutes if you like runny yolks). Sprinkle with parmesan cheese and red pepper flakes. Cut into slices and serve!
Adapted from Dine & Dash
SALT & PREPPY https://www.saltandpreppy.com/